The World Needs You
Our Prayer Share Community has brought people together from around the world to request prayers and support. The KSAM team responds to as many of these prayers as possible, but we need your help responding to more! Become a part of our Global Prayer Team to respond to prayers around the world and keep track of who you respond to. You can help bring peace, hope, and inspiration to the global community.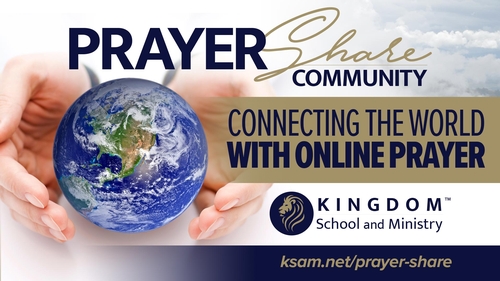 How It Works
When you join our Global Prayer Team, we hope you can respond to prayers monthly, weekly, daily, or as often as you would like to devote your time. You'll gain access to a special web page that will help you track your responses and give you tips and updates to see how your prayers impact the world. When you respond to prayers as part of our Global Prayer Team, you will be identified with a special icon shown beside your prayer, so people know the response is coming from a member of the team.
Extra Support
Signing up to be part of the Global Prayer Team means you'll also receive our weekly email bulletin. This highlights specific prayers from people around the world who would benefit greatly from a personal prayer response written by someone on the team. It also includes useful tips that may help you pray for others. Additionally, it showcases the overall effect the prayer team has across the global community, and it includes inspiring messages and impactful prayer updates for everyone on the team.
Sign Up to Pray for
People Around the Globe
Join the Global Prayer Team to respond to prayer requests all over the world. If you already have a KSAM account, you can log in with your email here and check the box below to join. If you are new to the Prayer Share Community, create an account below by filling in your information and checking the box to join. We appreciate your help!